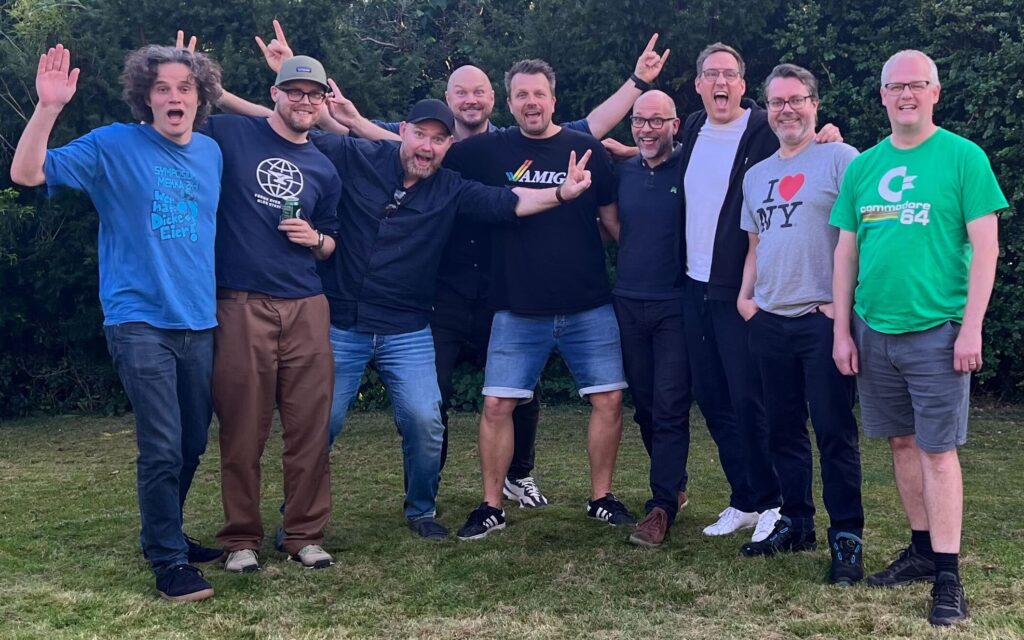 Right before being admitted to the demoscene home for the lazy and elderly, we managed to celebrate our 30th birthday – mainly the Danish division – at the somewhat luxurious surroundings known as Bakerman's house and (as the photo indeed shows) garden. Followers are of course welcome to wonder who is who on the photo – and who sadly missed out on the event, which provided plenty of entertainment – a music competition, a concert (featuring Trip and Folcka), a rather difficult Depth quiz (courtesy of Curt Cool) an online meeting with the Norwegians, abundant oldschool gaming and plenty of french toast, burgers and of course beer, not to forget butter, traktor and puost. In other words, Take on Me (Coma's 6 second .mod version) was played on repeat for quite sometime, and both Darkhawk and Frankofonen were tributed in new jazz arrangements of the well known tunes found in the good old Amiga demos from 1996-97.
In other words, everyone brought their best mood, old hardware and, thankfully, totally unupdated senses of humour straight from the 90's. So it was indeed a sweet and nostalgic time, with much crying of happiness. Or mostly just happiness.
Another sweet time came only a few weeks later when Curt Cool and Presence made it to TRSAC which took place – hopefully not for the last time though Puryx said so – in Mexico, err, Aarhus, starting on a very windy friday where ferries were cancelled and everybody (some 110 people or so) just made it in time to avoid fallen trees. Yes, though it was in Aarhus, it had a Mexican theme, and of course such cultural appropriation should be honoured, and seemingly, the audience agreed.
Thus, management is almost pleased that Curt Cool managed to win the tracked music competition with "Mexican Standoff" which, according to them, at least has or is a mock-xican theme. Trip had also made very fine classical arrangement of Curt Cool's chiptune "Unsuspected <P>" from 1996 as a surprise for the aforementioned 30th anniversary (and Curt Cool who seemed oddly touched), which, as "Unsuspected Puost" won the streaming music competition. The management are confident that this is just an anormality and that the TRSAC audience still prefers hard, monotone techno and will try to look for replacement musicians as soon as possible, or turn to artificial intelligence which (as they say) probably won't cause as much trouble by complaining and general grumpiness.
Also, we must send our congratulations and greetings to Presence and his Fnuque-crew who won the combined intro competition with "Second Rodeo", and our greetings to Danish Underpants Brigade (or whatever they call themselves these days), Loonies, Moods Plateau, Darklite, Desire, Focus Design, No Name, TBC, RBBS and The Black Lotus and whoever weren't drunk enough to be remembered or perhaps we were too drunk to remember. It's one of those things, or maybe there's a third option, we haven't figured out yet. Well, it was fun anyway, so keep it up!