As we all know, 25 years ago in spring, the great legend of Commodore was crucified by bankruptcy after being starved and deceived by corrupt businessmen. And that is why we celebrate Easter and mourn the loss of Commodore. In Germany, the Easter mourning of Commodore's demise has recently taken place in Saarbrücken, Germany, shrewdly covered by the (slightly boring) name REVISION. To celebrate Commodore, demos, music and graphics were created, and much beer was consumed to forget about this terrible loss.
And this year, Curt Cool and Presence made this pilgrimage – and Presence was even coding. Curt Cool also contributed to several competition and releases, most notably making 2nd place in the tracked music competition with "Due Diligence" (protracker mod), but also came 9th in the Executable Music Competition with "The Rain Killer" (renoise & oidos), and 9th in the Oldskool Music Competition with "To Molecular Floor" (pretracker).
Since this was Mr. Cool's first demoparty for more than a year, this was not enough, he was also lucky enough to contribute the music to the 2nd place Oldskool Intro "Don't be Square" (cinter & protracker), cooperating with Blueberry and Farfar, and music to the Nah-Kolor 64k intro which came 4th in the competition, "Down to the molecular hexagons and cube chains". The music of this intro can also be located, "Planeteer" (ahx) it is called. This also means, that he – more or less – made these tracks in five different programs/apps, which is … something … very nerdy …
But, stuff of importance also happened there – for instance, there was plenty of beer and plenty of friendly people to drink it with. And there was an utterly awesome Amiga demo competition featuring some of the finest people and demos ever to grace the Amiga scene with their immense presence. Really, you should have been there with us, and we might have shared a beer and a few silly anecdotes and had been more or less old together. Like this (thanks Ozan/Desire for the picture).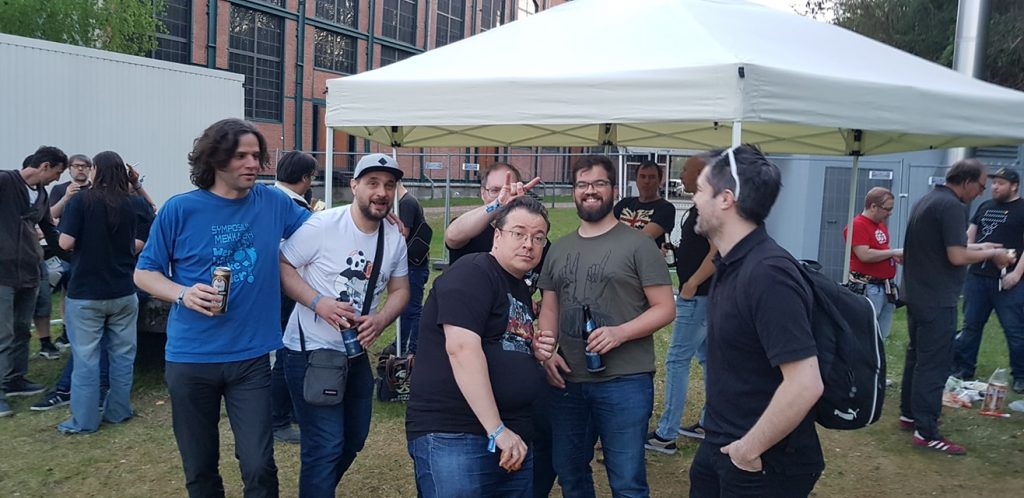 CU next year, Revision.